Krakow's Wieliczka Salt Mines have been a Unesco World Heritage site since 1978.
That in itself should convince you they are worth visiting. But if it isn't, let me give you more reasons!
Brace yourselves: here comes the low-down on why you really shouldn't miss out on this experience during your trip to Krakow.
A stone's throw from the city
The Salt Mines are about an hour from Krakow at Wieliczka. You could book with the package tour agencies touting the trip all over town; you could even book straight from the reception of your hotel. But you can just as easily make your own way there. All you need do is jump on the 304 bus from the city centre and get off at the "Kopalnia Soli w Wieliczce" stop about an hour later.
 

Two different tours
Once you reach the ticket office, you'll be asked to choose one of two tours: the Tourist Route, or the Miner's Route. On the Tourist Route, guides take visitors down tunnels, passageways, chambers and staircases on a tour of this parallel subterranean world. Along the way they tell you all about the history of the mine, as well as plenty of stories about a place that has been drawing visitors from around the world for decades.
No particular clothing is needed, but I would recommend comfortable shoes with lug soles (it's damp and the floors can get wet). It's also worth bearing in mind that the temperature in the mines is always around 14 – 15°C, so there's no need to take additional clothing with you.
The Tourist Route is suitable for people of all fitness levels, although there are lots and lots of steps. Trekkers: I hate to be the bearer of bad news, but a service elevator takes you back to the start, so you can't climb back up to the top.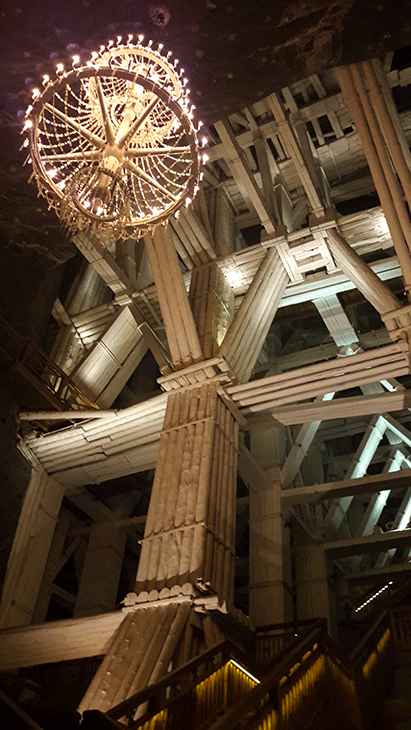 The Miner's Tour, on the other hand, is only available in English and Polish. Visitors don a helmet, head torch and carbon monoxide absorber before embarking on a journey as fully-fledged miners. On this tour, they are given a series of tasks to complete whilst also learning about the work miners once did here, and exploring all the murkiest, most mysterious passages in this subterranean maze. Technically speaking this tour is more challenging: I advise you to weigh up all the advice and limitations (available on the official website) before you opt for this tour.
For information, opening times, booking and to buy tickets, visit the official website.
St Kinga's Chapel
After walking along salt galleries, admiring bas-reliefs and statues, saltwater lakes and underground chambers, at a certain point your heart will skip a beat when you come to a sight which in itself is worth the cost of the ticket alone: it's the chapel of St Kinga (patron saint of miners… who else?!), the world's largest subterranean church set at a depth of 101 metres below sea level.
The most jaw dropping thing about this place is not just its record-breaking dimensions: it's that every single thing you look at (from the stairs to the altar, statues and pillars, even the floor itself) is carved out of salt. Trust me; it's hard to believe your eyes when you first see it.
Mass is held in the chapel every Sunday, and it is used to hold weddings and concerts. But it is also an underground art gallery with countless works by miners-turned-sculptors. Take a moment to soak in this masterpiece in silence, in the soft light of salt crystal candelabras and lamps. It took 30 long years of gruelling work to build this church, and there is nothing banal about being lucky enough to admire it. Once the tour is over, your guide will give you a truly memorable send-off: one last glimpse of the chapel from above, set to the opera music of Verdi's Chorus of the Hebrew Slaves.
Don't forget: St Kinga's Chapel is on the Tourist Route, not on the Miner's Route.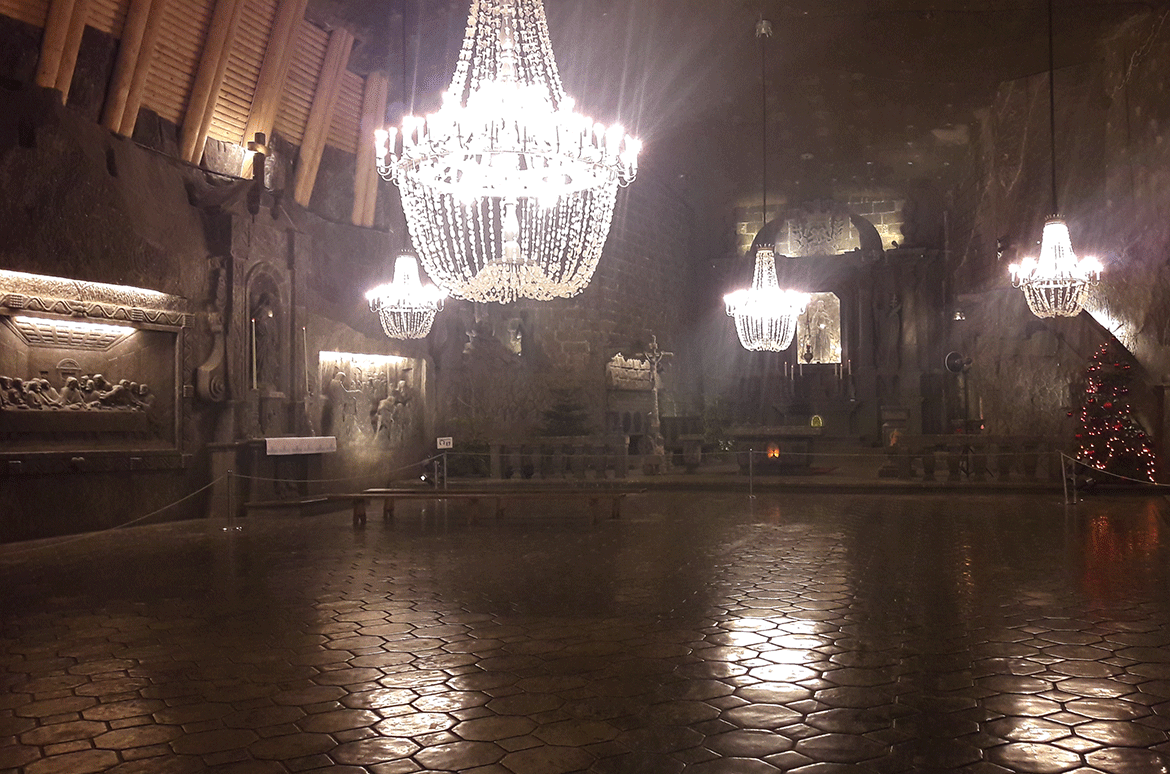 Salt, and its many properties
Salt is a byword for wealth: it is the origin of the word "salary", as well as the expression "to be worth one's salt" because it was once used as a form of payment. This is because salt is one of the oldest means used to preserve foods as it removes water in the food, blocking the vital functions of micro-organisms. So it's hardly a coincidence that the
Wieliczka Salt Mines were once a key source of wealth for all Poland.
In 1840, Polish doctor Felix Boczkowski set out to understand just why miners there had a lower incidence of respiratory diseases. He went on to demonstrate the beneficial effects of salty air (combined with a high level of humidity, a constant temperature and the absence of any pollution) on respiratory health. Shortly after, Dr Boczolswski inaugurated a subterranean spa which continues to treat allergies and respiratory diseases to this date.
Just think, all that salty air is included in the cost of your entry ticket to the mine 🙂
So, have I convinced you?
Have fun!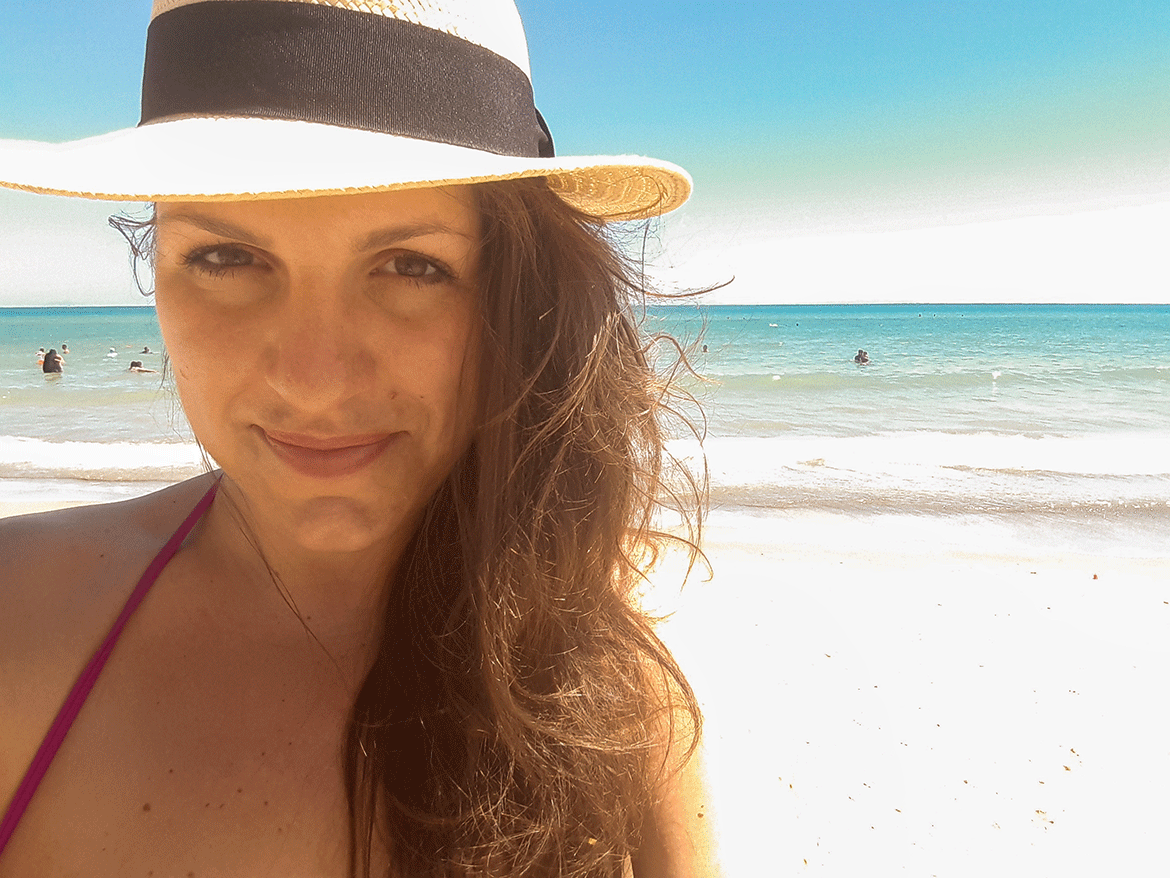 "For me, travelling means always being on the move, and enjoying every single moment. I could never go without that feeling."